Appoint Personal Injury Lawyers to Secure your Taxi Rides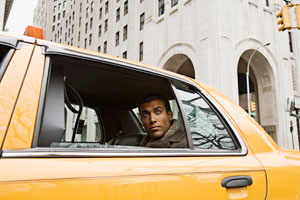 A recent study indicates that taxi advocates have some merit when they argue that riding by taxi is safer than driving yourself. But the statistics show that it's not a whole lot safer. Cab operators are involved in about five accidents per millions miles, whereas people riding in their own vehicles had 6.7 accidents per million miles.
If you have been hurt in a motor vehicle accident while driving in your own car or as a passenger in a private automobile, you will typically look to insurance coverage to recover for your losses. But what are your option when yo
u have been hurt in an accident while riding in a cab or shared ride?
In most instances, a claim for damages or injury in a motor vehicle accident is based on a legal theory of negligence. Under the legal concept of negligence, every person (including people driving motor vehicles) has a duty to act at all times with reasonable care, or with the standard of care that would be expected of an average person with ordinary prudence. Speeding, driving under the influence of drugs or alcohol, ignoring traffic lights, signs or laws while behind the wheel—these would all be considered a breach of the duty to use reasonable care.
One of the first steps in recovering damages after a motor vehicle accident, then, is to determine who might have violated that standard of reasonable care, causing the accident that led to your injury. With an automobile accident, the following may be causes of your injury:
Operator error or misjudgment
A defect in or malfunction of a critical component of one of the cars in the accident
Roadway defects, broken signs, lights that don't work properly
If the driver of your cab was speeding or driving recklessly, and you can show that that behavior caused your injuries, you can file a claim to recover damages. In addition, if the driver of the cab could have reasonably avoided the crash, that may be a basis for financial recovery.
Most cab operators have liability insurance that covers their losses when a passenger are injured. With the more reputable "ride share companies," such as Uber, Lyft, Sidecar and Haxi, drivers have the same type of coverage.
Contact Our Office
For a free initial consultation, contact us by e-mail or call the Law Office of Neal S. Axe, LLC, at (856) 795-8788. We can meet with you any time, 24 hours a day, seven days a week. If you are unable to come to our office, we will visit you in your home, the hospital or a nursing home facility.
Our personal injury lawyers take all personal injury claims on a contingency basis. There are no legal fees unless we recover compensation for your losses.