Authorities Tie Worker's Death to Failure to Follow Scaffold Safety Measures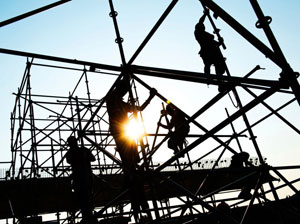 Because of concerns about the safety of workers on high rise projects across the state, New York has specific laws governing safety requirements for the erection and maintenance of scaffolding. The death of a high-rise construction worker in downtown Manhattan earlier this year shows the legitimacy of these concerns.
In April, a construction worker fell from approximately 80 feet while working on scaffolding on the façade of the Dream Hotel, under construction on W. 55th near Broadway. Witnesses said the worker was alone on the scaffold, and did not appear to have a harness or any other safety device attached at the time of the accident. The man apparently stepped through a section of the scaffolding where planks had been removed. He landed on another scaffold just above the entrance to the hotel.
Under New York Labor Law Section 240, the owner or contractor involved in "erection, demolition, repairing, altering, painting, cleaning or pointing of a building or structure" must employ measures, such as scaffolding, to "give proper protection" to any employees on a project. Generally, if a contractor or owner erects scaffolding, the owner or contractor is under a legal obligation to ensure that the scaffolding is properly erected and properly maintained.
In response to the accident, the New York Department of Buildings put a full stop work order on the project, and cited the contractor for failure to safeguard persons or property affected by construction operations.
Contact the Law Office of Neal S. Axe, LLC
We offer a free initial consultation to every new client. We are open and available during traditional business hours, but can meet with you anytime, 24 hours a day, seven days a week. We will also arrange to visit you in your home, a nursing facility or the hospital, if necessary.
To schedule an appointment, send us an e-mail or call our office at (856) 795-8788.