Experienced Slip and Fall Injuries Attorneys With Offices in Willow Grove, PA & Cherry Hill, NJ
In Pennsylvania and New Jersey, as in all states, property owners have a responsibility to keep their land and buildings reasonably safe for visitors. This requires that they properly monitor the premises for potential safety risks, and that they either take reasonable measures to fix any dangerous conditions or provide appropriate warnings to prospective users. If you or someone you love has been hurt on poorly maintained residential or commercial property, you want an aggressive and experienced lawyer to fight for your rights.
At the Law Offices of Neal S. Axe, we have provided comprehensive legal counsel to injured people in New Jersey and Pennsylvania for more than 40 years. We built our practice on a commitment to personal service and attention, always focusing clearly on the needs of our clients. We will take the time to learn the details of your accident, as well as what you need to get your life back on track, so that we can tailor our representation to meet your goals. We will help you understand the law and legal process, as well as your options and likelihood of success, so that you can make educated decisions about your future.
Our Representation in Slip and Fall Injuries Cases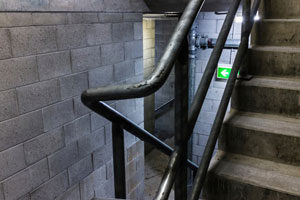 We handle all matters related to slip and fall injuries claims, from the gathering and preservation of evidence to the preparation and filing of all pleadings and other documents required by the courts. We will also be your advocate in all hearings or proceedings.
When you hire us to protect your rights, we will conduct a thorough investigation of the facts and circumstances of your case, traveling to the scene of your injury if appropriate. We have a network of experts we can call on, including accident reconstruction specialists, medical professionals, engineers and financial planners, to help us prepare and present the most compelling arguments for your full financial recovery.
We take slip and fall cases involving all types of negligence, such as:
Failure to monitor or repair broken or defective flooring, including tile, linoleum, carpet and hardwood
Failure to prevent slippery conditions on floors, steps, sidewalks, driveways and other walkways
Failure to repair broken steps, stairways, ramps, decks, porches or other structures
Failure to provide appropriate lighting or proper security on real property
Contact Our Willow Grove, PA or Cherry Hill, NJ Offices
We offer a free initial consultation so that you can learn quickly whether you have a claim worth pursuing. We know that accidents can happen at any time, so we are available 24 hours a day, seven days a week to meet with you. If you are unable to travel because of injury or illness, we will visit you at home, in a nursing facility or in the hospital.
We take all personal injury claims on a contingency basis. We won't charge attorney fees unless we recover monetary damages for your injury.
For an appointment, send us an e-mail or call our office at 215-784-1666 in Pennsylvania or at 856-795-8788 or 609-695-0220 in New Jersey.