Personal Injury Lawyers for Pedestrian's That Have Suffered Crosswalk Injuries in NJ & PA
Failure to Stop | Illegal Turns | Failure to Look | Serious and Catastrophic Injury | Wrongful Death
According to statistics compiled by the National Highway Traffic Safety Administration (NHTSA), a pedestrian is killed by a motorist an average of every two hours in the United States, and nearly 10 pedestrians are injured in any given hour. A substantial percentage (almost one in four) of car-pedestrian accidents occur in crosswalks, when drivers strike pedestrians legally crossing the street. If you or someone you love has been hit by a motorist while in a crosswalk, we can help.
At the Law Office of Neal S. Axe, LLC, our Personal Injury Lawyers have aggressively protected the rights of injured people in New Jersey and Pennsylvania for more than 40 years, including pedestrians hurt in crosswalk accidents. Our focus is always on your needs. We will take the time to learn the details of your accident, so that we can formulate the most effective strategy to get full and fair compensation for all your losses. We'll keep you fully informed of all developments in your case, as well as your options, so that you can make good decisions about your future.
contact us by e-mail or call our office at 215-784-1666 in Pennsylvania or at 856-795-8788 or 609-695-0220 in New Jersey to schedule a free initial consultation.
Protecting Pedestrians Injured in Crosswalk Accidents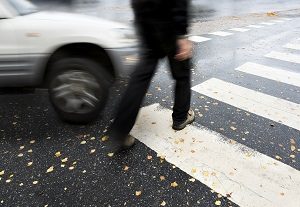 We handle all matters related to pedestrian crosswalk accidents. We will conduct a thorough investigation of the facts and circumstances of your accident, and will travel to the scene, if necessary. We have an extensive network of expert witnesses we can call on, including accident reconstruction specialists, medical professionals and financial planners, so that we can construct and present the most compelling case for your full financial recovery.
We take all types of pedestrian crosswalk injury claims, including cases involving:
Failure by a motorist to stop at a light or sign
Failure by a motorist to look before turning right into a crosswalk
Motor vehicle collisions where one or more vehicles careened into a crosswalk
We litigate claims involving all degrees of injury, from sprains, strains and other soft-tissue trauma to serious and catastrophic loss, including broken bones, head or spinal cord injury, road rash, permanent scarring or disfiguration, and amputation or loss of limb. We also take wrongful death claims stemming from pedestrian accidents.
Contact Our Offices in Cherry Hill, NJ & Willow Grove, PA
We provide a free initial consultation to every new client. Because accidents don't always happen during business hours, we are available 24 hours a day, seven days a week, to meet with you. If you can't come to our office, we will visit you in your home, a nursing facility or the hospital, if necessary.
To set up your first meeting, contact us by e-mail or call our office at 215-784-1666 in Pennsylvania or at 856-795-8788 or 609-695-0220 in New Jersey.
We handle all pedestrian accident claims on a contingency basis. We won't charge lawyers fees unless we recover compensation for your losses.