Experience Rollover Accident Attorney in New Jersey and Pennsylvania
Rollover Accidents involving Sport Utility Vehicles/SUVs, Passenger Vans & Negligent Vehicle Design
According to government statistics, nearly four in ten fatal SUV accidents result from rollovers. In fact, single vehicle deaths stemming from vehicle rollovers were more than twice as likely for an SUV than a passenger vehicle, and the fatality rate for SUV occupants was almost two and one-half times greater than for a passenger car. If you or someone you love has been hurt in an accident involving a vehicle rollover, we can help.
At the Law Office of Neal S. Axe, LLC, we have aggressively protected the rights of injured people in New Jersey and Pennsylvania for more than 40 years. We built our successful reputation and practice on a commitment to meeting the needs of our clients. We take the time to listen, so that we learn exactly what happened and what you need to move forward with your life. Our attorneys will help you understand the law and process, as well as your options and prospects for success. We will keep fully informed of all developments in your case, so that you can make the right decisions about your future.
contact us by e-mail or call us at 215-784-1666 in Pennsylvania or at 856-795-8788 or 609-695-0220 in New Jersey to schedule a free initial consultation.
Our Motor Vehicle Rollover Accident Injury Practice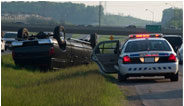 We offer comprehensive counsel to people who have suffered an injury in a motor vehicle rollover accident. We will conduct an exhaustive investigation of the facts and circumstances of your crash, traveling to the scene of the accident, if necessary. Attorney Neal Axe will prepare and file all pleadings and other documents necessary to prosecute your claim in court, and will be your voice in all hearings or proceedings. When appropriate, we will work closely with expert witnesses, including accident reconstruction specialists, engineers, financial planners and medical professionals, to put together the most compelling arguments for your full financial recovery.
We handle single-vehicle or multi-vehicle accidents stemming from a vehicle rollover, and take cases involving any type of injury, from minor sprains or strains to serious and catastrophic loss. We also litigate wrongful death claims arising out of vehicle rollovers.
Contact Cherry Hill, NJ or Willow Grove, PA Offices
We offer a free initial consultation to every new client. To accommodate your schedule, we are available to meet with you 24 hours a day, seven days a week. Home, hospital and nursing home visits can be arranged upon request.
We handle all motor vehicle rollover accident injury claims on a contingency basis. We don't charge any legal fees unless we get compensation for your losses.
To set up your first meeting, contact us by e-mail or call our office at 215-784-1666 in Pennsylvania or at 856-795-8788 or 609-695-0220 in New Jersey.