Experienced Pennsylvania and New Jersey Personal Injury Lawyers
Bus Accidents | Drivers | Passengers | Pedestrians
According to the National Transportation Safety Board, more than 20,000 people are injured in bus accidents every year, with approximately 250 bus-related traffic fatalities annually. The causes vary, from lack of experience on the part of bus operators to failure to take weather or traffic conditions into consideration. If you or someone you love has been injured on a bus or in a motor vehicle accident involving a bus, you want an experienced and assertive attorney to help you get full financial recovery for your losses.
At the Law Offices of Neal S. Axe, we have aggressively protected the rights of injured people in New Jersey and Pennsylvania, including people hurt in bus-related accidents, for more than 40 years. Our focus is always on the needs of our clients. We will take the time to learn the full extent of your losses so that we can formulate the most effective strategy to make you whole again. We'll keep you fully informed of all developments in your case, as well as your options, so that you can make good decisions about what's best for you.
Our Representation in Bus Accident Cases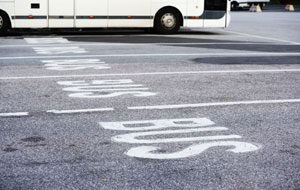 When you hire us to help you pursue compensation for injuries suffered in a bus accident, we will initiate a full investigation of the facts and circumstances of your injury, traveling to the scene of the accident if necessary. We have a broad network of expert witnesses, such as accident reconstruction specialists, engineers, medical professionals and financial planners, who help us prepare and present the strongest arguments for full and fair compensation.
We handle all types of bus accident claims, including those involving:
Injuries to drivers, passengers and pedestrians in collisions involving buses
Injuries to passengers from sudden stops or starts, or from reckless driving by a bus operator
Injuries caused by negligent maintenance of a bus
Injuries caused by carelessness or lack of experience on the part of a bus driver
Contact Our Pennsylvania and New Jersey Personal Injury Lawyers
We provide a free initial consultation to every new client. Because accidents don't always happen during business hours, we are available 24 hours a day, seven days a week to meet with you. If you can't come to our office, we will visit you in your home, a nursing facility or the hospital if necessary.
To set up your first meeting, call our personal injury lawyers from our office at 215-784-1666 in Pennsylvania or at 856-795-8788 or 609-695-0220 in New Jersey.
We handle all bus accident claims on a contingency basis. We won't charge attorney fees unless we recover compensation for your losses.