Recall Differences Demonstrate Reactive Approach to Auto Safety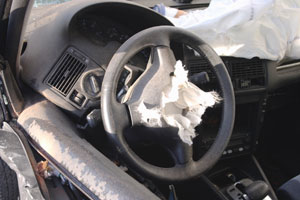 In light of the massive recall of General Motors products with faulty or defective ignition switches, other automobile recalls have come under greater scrutiny. One pattern that has clearly emerged—the automakers typically only take action in response to serious injury or death, and the responses may vary dramatically based on what part of the country you live in.
Though the National Highway Traffic Safety Administration specifically requires that safety-related defects be "remedied on a nationwide basis, unless the manufacturer can justify a limited geographic scope," automakers have established a trend of "regional recalls," with most recalls being initially limited to a small geographic area. Safety advocates contend that regional recalls fail to take into consideration the mobile nature of our society, and put many motorists at risk.
As an example, consumer protection advocates point to problems with the Chevrolet Equinox. In response to concerns that excess heat would cause cracks in the Equinox fuel pump, General Motors issued a recall that applied only to Equinox owners in Texas, Arizona, Nevada and California. Owners in many other states, including Connecticut and Michigan, experienced similar problems, but could not get local Chevrolet dealers to address the problem, because those states were not included in the recall. Safety advocates contend that it's all about cost savings, and not about the actual safety of drivers. Because automakers do not have to engage in a full recall, motorists in those states not on the recall list must have a dangerous vehicle—one that leaks gas—to get any help.
Automakers contend that, when regional conditions, such as heat and cold or road salt, are the cause of mechanical problems, it makes no sense to repair vehicles that are not exposed to those conditions. But safety advocates counter that persons from states not included in the recall may travel or move permanently to states subject to the recall, and that it's in the best interests of consumers as a whole to have safe vehicles. To date, the NHTSA has generally allowed automakers to limit recalls regionally.
Contact Attorney Neal S. Axe
To schedule a free initial consultation, send us an e-mail or call us at (856) 795-8788. We check our messages day and night, and will meet with you any time, 24 hours a day, seven days a week. If you can't come to our office, we will visit you in your home, the hospital or a nursing home facility.
We take all personal injury claims on a contingency basis. There are no legal fees unless we recover compensation for your losses.